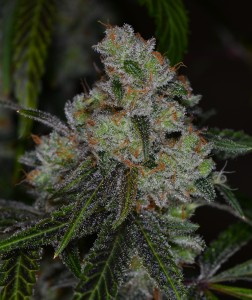 Lineage:
Pineapple Fields (Pheno B) x Pineapple Fields (A male)
Mom-  The "B" pheno of pineapple fields was used for this F2, which speeds up the overall bloom time of the entire gene pool. Smells of Roadkill/fuel/pineapple dominate the terpene profile.

Dad-The dad is leaning towards Pineapple Fields "A"  pheno, and provides the "b" pheno with a good balance for the offspring.
Sativa Dominant
No
Indoor
Outdoor
Greenhouse
9-10 weeks
3
Describe each phenotype expression:
Pheno "A"- (25%) 50/50 pheno exhibiting traits from both parents and nearly a perfect plant. 9-10wk bloom, chunky buds/good yielder , PM resistant, purple hues and an amazing pineapple/candy/dank smell.

Pheno "B"(60%) reeking of pineapple roadkill, this Kali Snapple dominant pheno that is the smelliest of the bunch. incredible terpenes and high.

Pheno "C" (10%) Ms.Universe pheno that takes the longest to bloom (10wk) but the skyrocket high is well worth the wait. pineapple/haze smells and flavors bless the senses when this lady is in the area.

Pheno "D" (5%), recessive pineapple genes that will make you salivate at first whiff. Pineapple juice is the main smells you will get from her.
1-2x
High resin
10
Pineapple, Fuel, Haze, Road Kill
9
Pineapple, Tropical fruit, haze, old school skunk
9
well rounded, cerebral/body