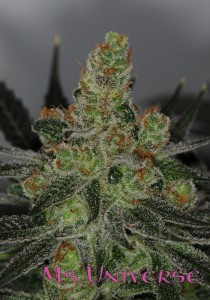 Strain Name:
Ms.Universe
Brand:
Dynasty Seeds
Landrace,F1,F2, Selfed,Polyhybrid etc
Lineage:
Dess*Tar x Space Queen F3
Parental Information
Our Dess*tar (Starship x Kail Mist) Mother used for this cross is a very 
unique sativa dominant plant with an indica structure….. The Dess*tar is extremely stable and has high resistance to disease and pests.. She also has such a high THC content that it will leave a resinous film in your mouth upon exhale… her scents and flavors range from hash oil, caramel, pineapple and haze… This plant can be considered a mild psychedelic..

The male Space Queen F3's sweetness makes the perfect complimentary partner to the Dess*star's overbearing potency…. This male has a nice
branchy structure that does not stretch as much as the SQ F2 Male used in previous crosses..

The Dess*tar is dominant in the Ms.Universe..
Indica/Sativa %
Sativa Dominant
Feminized Seeds?
No
Indoor / Outdoor
Indoor


Outdoor
Greenhouse
Bloom Length:
9-10weeks,..
# of Phenotypes?4
Describe each phenotype expression:
All phenos are extremely greasy and resinous… There are also many shades of color that will show up in the gene pool..

***Very High Potency on this strain.

Pheno #1 (40%) xmas tree structure, smells and flavors or pineapple/hashy caramel/haze with hints of berry. 9 week bloom, PM resistant, and tight inter-nodal spacing. 1x stretch..

Pheno #2 (30%) by far the sweetest pheno, she expresses more cherry/berry than the others. slightly more indica with this pheno, but still sativa dom.. 1.5x stretch

Pheno #3 (10%) has the most stretch and longest bloom time.. Although she is more rare, I have grown her and love her! She grows foxtails/dreadlocks towards mid/late bloom… Expect smells and flavors ranging from cherry/pineapple/haze/vanilla.. 2x stretch

Pheno #4 (20%) identical to Pheno #1 in every way, but has mostly a hazy smell.. Very good pheno for stealth grows.
Stretch:
1-2x
Resin Profile:
Copious Resin
Odour Score:
7
Odour Description:
pineapple/hashy/caramel/haze/cherry berry/vanilla
Flavour Score:
8
Flavour Description:
cherry berry, pineapple, haze, caramel hash
High Type:
medicinal pain relief, psychedelic, head to toe tingle after first hit