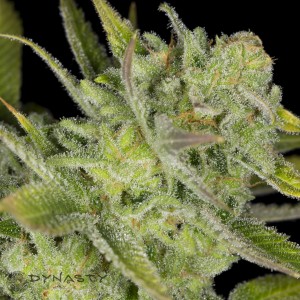 Strain Name:
Huckleberry Space Queen
Brand:
Dynasty Genetics
Landrace,F1,F2, Selfed,Polyhybrid etc
Lineage:
Space Queen F3 X Oregon Huckleberry [2014]
Parental Information
MOM-  The Space Queen F3 mother is the same mom used for the Soliloqueen. She is very fast blooming with an amazing amount of trichomes.  A well rounded uplifting buzz makes it great medicine for anti-anxity, depression and more.

DAD- Our newly selected Oregon Huckleberry Male [which is a strain we started back in 2007], has become married with the Space Queen F3, providing a frosty, fast blooming, vigorous offspring that nicely compliments one another.. 
Indica/Sativa %
50% Indica / 50% Sativa
Feminized Seeds?
No
Indoor / Outdoor
Indoor
Outdoor
Greenhouse
Bloom Length:
9wk
# of Phenotypes?
3
Describe each phenotype expression:
Pheno #1(30%)- Space Queen dom pheno that is one of the fastest blooming and extremely resinous. This pheno has a nice terpene profile resembling "berry yogurt" infused with weed. 

Pheno #2(50%)- 50/50 pheno provides a nice compliments from both parents and is the most common in the gene pool throughout testing..  The smells are subtle, but the smells/flavors come thru nicely upon a good cure..

Pheno #3(20%)- Huckleberry dom. and the most dense of the group. the stretch is minimal as well (.5x), so be prepared for a little longer vegetive time for this pheno.
Stretch:
.5-1x
Resin Profile:
Copious Resin
Odour Score:
7
Odour Description:
sweet/sour berry/vanilla/skunk
Flavour Score:
8
Flavour Description:
sweet/tart berry/hashy undertones
Potency Score:
8
High Type:
relaxing, anti-anxiety, balanced head/body effect