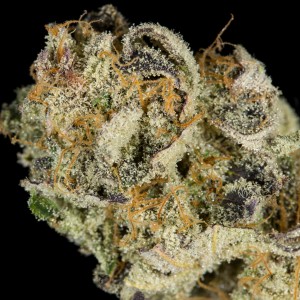 Strain Name:
Huckleberry DesTar
Brand:
Dynasty Genetics
Landrace,F1,F2, Selfed,Polyhybrid etc
▪  Stabilized Polyhybrid
Lineage:
Des*Tar x Oregon Huckleberry 2014
Parental Information
Our Des*tar (Starship x Kail Mist) Mother used for this cross is a very unique sativa dominant plant with an indica structure. The Des*tar is extremely stable and has high resistance to disease and pests.. She also has such a high THC content that it will leave a resinous film in your mouth upon exhale… her scents and flavors range from hash oil, caramel, pineapple and haze… This plant can be considered a mild psychedelic..
The father is a select male chosen out of the Huckleberry 2014 gene pool. The huckleberry 2014 is basically a huckleberry backcross, using an old Dj short's BB clone in the mix. Huckleberry 2012=huckleberry 2011/(Dj short BBxHuckleberry 2007… This line has show great medicinal value and a fast maturation period. This same father has been used in the crater lake V5 and more..
Indica/Sativa %
Sativa Dominant
Feminized Seeds?
No
Indoor / Outdoor
▪  Indoor
▪
▪  Outdoor
▪  Greenhouse
Bloom Length:
8-9.5weeks,..
# of Phenotypes? 4
Describe each phenotype expression:
All phenos are extremely resinous and fairly easy to grow..
***Very High Potency on this strain.
Pheno #1 (40%) 50/50 pheno that expresses traits from both parents. Good yield, fast bloom time and smells of berry/pineapple/haze/hash make this a very pleasurable plant to grow and smoke.
Pheno #2 (30%) Sweetest and densest pheno, expressing more Huckleberry than the others. 56-60 days bloom time, immense trichome coverage on dense buds makes this one of the most appealing bag appeals from the genepool (and easy to grow).
Pheno #3 (10%) Tallest and most rare pheno with most stretch. recessive dominant traits lean towards the DesTar mom. Good resistant to PM and mold.
Pheno #4 (20%) Similar to pheno #3 in every way, but has less fragrance.. Very good pheno for stealth grows.
Stretch:
.75-1.25x
Resin Profile:
Copious Resin
Odour Score:
6
Odour Description:
pineapple/hashy /haze/huckleberry/carmel
Flavour Score:
8
Flavour Description:
Blueberry, huckleberry, pineapple, haze, hash
High Type:
medicinal pain relief, sedating, extremely strong