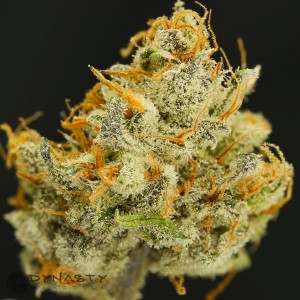 Strain Name:
Crater Lake V5
Brand:
Dynasty Genetics
Landrace,F1,F2, Selfed,Polyhybrid etc
Lineage:
Super Silver Haze F2 (a/b) x Huckleberry 2014
Parental Information
Many years of work have gone into the creation and development of both parents to create this unique hybrid, with amazing medicinal applications..

The Mothers of this line is an F2 version of Mr.Nice's Super Silver Haze, which are some of the best super silver haze plants we have grown out of our current filial generation projects.. With only a 9week bloom time they are faster than many other haze hybrids, She also breeds true for her intense citrus smell, extreme potency and shorter bloom time.

We used 2 females to add an additional phenotype to the gene pool.. Our SSH F2 (b) is almost identical as the previous mom used for Crater Lake V4, and The SSH F2 (a) is a taller pheno with slightly more haze expressions.. The offspring has the same phenos as the B pheno with the exception of the Pheno #4, which is the tallest of the gene pool.. This is our first time using 2 moms for a release but we feel that they are both keepers.

The father is a select male chosen out of the Huckleberry 2014 gene pool (same gene pool as the 2012 male). The huckleberry 2014 is a huckleberry Backcross, using an old Dj short's BB clone in the mix. Huckleberry 2014=huckleberry 2011/(Dj short BBxHuckleberry 2007)… This line has show great medicinal value and a fast maturation period. This same father has been used in the upcoming Huckleberry Kush V3 which has also had some incredible results..
Indica/Sativa %
Sativa Dominant
Feminized Seeds?
No
Indoor / Outdoor
Indoor
Outdoor
Greenhouse
Bloom Length:
9 week
# of Phenotypes?
4
Describe each phenotype expression:
The crater lake phenos all smoke great across the board, the biggest difference between them is plant structure and stretch. #1 & #2 have been identified as keepers, but #3 lacked the ideal structure.

Pheno #1 (20%) Leaning towards the huckleberry 2012 with Tight nodal spacing, chunky flowers, intense sweet citrus fuel smell that is reminiscent to trainwreck.. 1x stretch and 8week bloom time.

Pheno #2 (15%) SSH f2 (b) dominant by structure, smell, high and yield.. Expect 1-1.5x stretch and 9week bloom time with an extremely intense high to boot.

Pheno #3 (15%) compact, dense buds with hashy/citrus/berry smell that smokes like hash due to the trichome density. One of the most narcotic phenos that has a 2x stretch and 8week bloom time. This one would be definite keeper material if the node spacing was closer.

Pheno#4 (30%) SSH F2 (a) dom, Taller haze dominant plants that have a very uplifting effect and immense resin production.. One of our favorites that the SSH F2 (a) mother is responsible for.
Stretch:
1-2x
Resin Profile:
Copious Resin
Odour Score:
9
Odour Description:
Haze, citrus, skunk, berry
Flavour Score:
9
Flavour Description:
lemon/lime, haze, berry, hashy, skunk
Potency Score:
9
High Type:
Cerebral high with a couch lock after effect.